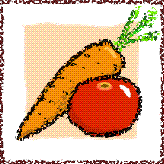 A diet to live to 110
(A true healthy diet)
In this chapter of the book we take the science described in the previous section and make it more practical. We suggest what your ideal healthy diet should include each day – and what it should exclude.
These suggestions are based on scientific studies of what types of food give you the best protection against diseases. Here are a few of the main points.
Vegetables, fruit and nuts
Top of the list for health come vegetables, fruit and nuts.
You have probably heard of the 'five a day' campaign to get people eating more vegetables and fruit. Most people in the UK eat a lot less than this.
But if you are interested in your health, we'd recommend even more than five a day. In fact, we suggest
4 or 5 servings of vegetables (other than potatoes) fruit every day

AND 4 or 5 portions of fruit every day

plus several servings of nuts each week.
Together, these could reduce your risk of heath disease and stroke by as much as a third. That's a huge benefit. You are also less likely to get cancer and some other diseases.
8 to 10 servings of fruit and vegetables may seem impossible, but your body will soon get used to it. Aim for as wide a variety as you can. This will provide you with vitamins and minerals, plenty of fibre, and plenty of 'antioxidants' and other substances to protect you from disease. The vegetables will also fill you up, so you are less likely to snack on fattening foods.
Cooking makes some vegetables more digestible but overcooking can destroy vitamins and other valuable components.
Other headline foods to include in your ideal diet:
Fish twice a week – or another source of omega–3 oil, preferably from fish or algae. This will provide your body with important building materials and protect it against heart disease and stroke.

Wholegrain foods (e.g. oats, some types of breakfast cereal, seeds, wholemeal bread and pasta, brown rice, etc). These are healthier for you than foods made out of refined grains such as white flour and white rice. That's because the refining process takes out the vegetable oil and other nutritious parts of the seed. Whole grains also provide a lot of useful fibre. Eating wholegrain foods seems to offer protection against heart disease.

Dairy products (such as cheese, yoghurt or milk) seem to reduce the risk of diabetes, though it is not yet known why. If you are able to, try to incorporate some in your diet. Low fat products reduce the calories – but make sure sugar hasn't been added instead.
Foods to avoid or cut back on:
Try to cut down the salt you eat, as this contributes to high blood pressure.

Watch out for sugar. This is added to a huge range of products, even savoury ones. Unless you exercise a lot, it's worth cutting right down on the sugar you consume (see Diabetes).

Cut back on red meat (such as beef, pork and lamb) as this is linked with an increased risk of bowel cancer. It's not a huge effect, though, so you don't need to cut out red meat entirely if you don't wish to. White meat such as chicken and fish doesn't seem to have the same link with cancer.

More important than red meat is processed meat (ham, sausages, pate, bacon, etc.). This is associated with an increased risk of heart disease and diabetes. It is worth cutting right down on processed meats – two servings a week at most.

'Trans fats' and 'partially hydrogenated vegetable oils' are particularly dangerous. These used to be common in margarine, processed foods and many baked products such as biscuits. They are believed to have contributed to thousands of deaths. Thankfully, manufacturers are fazing them out. Look for labels on baked and processed goods saying 'contains no hydrogenated vegetable oils'. Some supermarkets have banned them from all their brand products.
What you can do
Think about the foods you and your family eat. Try to include the health giving foods covered in this section and the previous one, and cut back on foods – salt, sugar, red and processed meat and hydrogenated vegetable oils – known to increase the risk of serious diseases.
What the book covers
As you'd expect, our book goes much further than the headline points covered here.
For example, it discusses
specific foods and drinks – and whole diets – where there is scientific evidence they help with your health

how many calories the ideal diet provides, so you have a sense of what else you can add to it

so-called 'superfoods'

the specific needs of children

what foods are eaten by communities where large numbers of people reach 100 years and older

the claims of some fad diets and miracle foods.
Selected references for the book